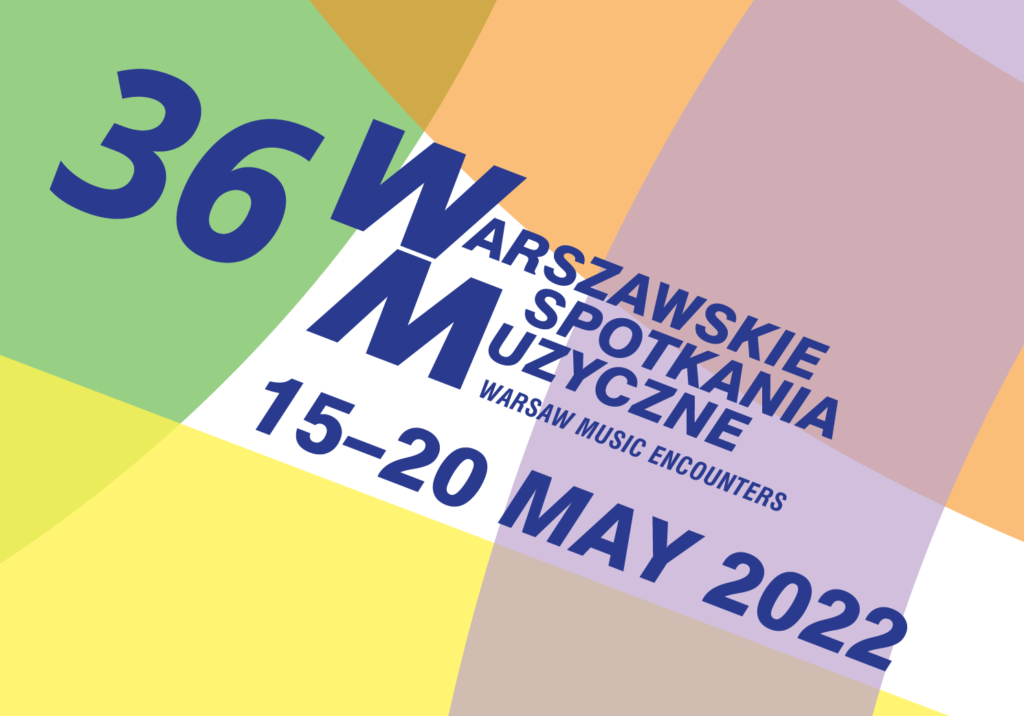 Ladies and Gentlemen,
After the two pandemic years that forced us to listen to music via the computer screen, the Warsaw Music Encounters are getting back to normal.
Or indeed they would, had it not been for 24th February. Reality has gone mad ever since. We are hosting millions of refugees, sending tanks, while the world is being transformed and one cannot say what even the nearest future will bring. The Encounters, however, stand a chance of taking place in the usual way, as before. Let us cherish this normality for, as it has turned out, it may well prove to be a unique privilege.
New music will definitely dominate in the festival's programme this year, but we will also hold a truly extraordinary concert of Mystery Sonatas, combining
the spirituality of the Baroque with that of the present day. Besides, the Mud Cavaliers will present their vision of The Shoemakers and three revolutions; Sinfonia Viva will premiere five new works; we will contribute to the return of Juliusz Wertheim's music to the concert stages after a hundred years,
and Leszek Lorent's percussion will bridge a levitating pianissimo to an orgiastic fortissimo.
The range of topics covered is exceptionally broad, from the human DNA (Marzena Majcher) to Witkacy and pulsars (Adam Sławiński), to the Luminous Mysteries. By way of counterbalance, children small, growing, and those quite grown-up will be able to create electronic music on Sunday with gestures
and intense movement (running).
The Polish Composers Union's Warsaw Branch thus invites you to a rewarding experience of running around to attend our concerts.
Jarosław Siwiński
Artistic Director of the 36th Warsaw Music Encounters
Sunday, 15th of May @ 11 a.m. – 4 p.m.
Kościesza & Kordaczuk Duo - sound installation for children and workshops of creating music with movement and gestures.
Ujazdowski Castle Centre for Contemporary Art, The W. Krukowski Auditorium Hall, Laboratory, ul. Jazdów 2

Which Way to Sound? is a sound installation for children consisting of 16 objects that generate sound based on impulses from motion detectors. The young listeners initiate these sounds by moving among the objects. The installation authors will hold a workshop during which special sound-and-motion games will be conducted and an electronic music work will be co-created in collaboration with the children. The installation may also be explored individually outside the workshop hours.
11 a.m. – 12 a.m. workshop I (children 5-6 y.o.)
12 a.m. – 1 p.m. visiting individual
  1 p.m. – 2 p.m. workshop II (children over 7 y.o. )
  2 p.m. – 3 p.m. visiting individual

registration for workshops:
online: HERE
e-mail: warsztaty@artdecogroup.eu
Monday 16th of May @ 7 p.m.
Wertheim, Landowska, Paciorkiewicz, Łopacki – Chamber music from 1908 to 2020
Witold Lutosławski Polish Radio Concert Studio, ul. Modzelewskiego 59
This concert recounts the achievements of pre-war Warsaw-based composer Juliusz Wertheim, as well as presenting a Sonata by Tadeusz Paciorkiewicz, professor of Warsaw's State Higher School of Music (now the Chopin University). The programme ends with vocal-instrumental music by our festival's debutant, Marcin Łopacki. We will also hear Autumn, an interesting piece written by famous harpsichordist Wanda Landowska.

Tuesday 17th of May @ 7 p.m.
From levitation to stars. A concert of percussion music
Fryderyk Chopin University of Music, Concert Hall, ul. Okólnik 2
This is professor Leszek Lorent's concert of percussion music, also featuring Jan Gralla in Ineffabilis for two multi-percussions. Lorent is one of Poland's greatest performers of contemporary music for percussion. The programme includes music by Marcin Błażewicz (who died unexpectedly last year), as well as Paweł Buczyński, Adam Sławiński, and our festival's debutante – Marta Śniady.
Wednesday 18th of May @ 6 p.m.
Il Tempo: A spiritual bridge across the ages
Evangelic-Reformed Church, Al. Solidarności 74
The excellent early music ensemble IL TEMPO under Prof. Agata Sapiecha dedicates this concert to Mystery (Rosary) Sonatas. Heinrich Biber's cycle
of Rosenkranzsonaten was composed in 1676 and conceived as a musical contemplation of the Mysteries of the Rosary, which concern the lives of Mary
and Jesus as meditated upon in the Catholic Church. Until 2002 there were 15 of those mysteries: five Joyful, five Sorrowful, and five Glorious ones. Biber dedicated one violin sonata to each of them.

The Luminous Mysteries were added by Pope John Paul II in 2002. Professor Sapiecha addressed Rafał Janiak (our festival's debut, a composer associated with the Chopin University of Music in Warsaw) with a request to create musical counterparts for these newly introduced mysteries. To preserve a balance between early and new music in the concert programme, composer Anna Ignatowicz-Glińska has been asked to interpret anew the fourth part of the cycle, that is, the Glorious Mysteries.

All this makes for a unique music event during which contemporary composers enter into a dialogue with Biber's work while striving to preserve its mystical dimension. The music will be accompanied by Agnieszka Syska's poetry recited by actor Waldemar Barwiński.
Thursday 19th of May @ 7 p.m.
Modernism, jazz, minimal music – for strings (and more)
Witold Lutosławski Polish Radio Concert Studio, ul. Modzelewskiego 59
This is a concert of premieres performed by Sinfonia Viva orchestra under Tomasz Radziwonowicz, featuring pianist Karol Radziwonowicz.
The extremely versatile Sinfonia Viva has made numerous recordings of classical, classical contemporary, and film music, and released 50 albums to date. The programme comprises five world premiere performances of music by Iwona Kisiel, Marzena Majcher, Jan Oleszkowicz, Tomasz Radziwonowicz,
and Krzysztof Słowiński. This music largely distances itself from the contemporary avant-garde. Notably, Słowiński and Radziwonowicz are both conductors and composers, who feel extremely at ease when working with orchestral material. Kisiel and Majcher, on the other hand, also work in the fields of film music and jazz.
Friday 20th of May @ 7 p.m.
WITKACY AT THE END OF TIME
Mud Cavaliers and three revolutions after Witkiewicz
Ujazdowski Castle Centre for Contemporary Art, The W. Krukowski Auditorium Hall, Laboratory, ul. Jazdów 2
The Witkacy Archipelago is a project by Mud Cavaliers, a collective of improvising composers. The multimedia concert (with video projections by Adam Kruk) is based in its structure on Stanisław Ignacy Witkiewicz's play The Shoemakers, and refers, among others, to the three revolutions described by the playwright: the Bolshevik, Fascist, and technological one. This is the Polish premiere of a programme previously presented in Lviv, Bucharest, and Bratislava.
Organizer:
Związek Kompozytorów Polskich
Rynek Starego Miasta 27
00-272 Warszawa
www.zkp.org.pl

Managing Director:
Marta Skotnicka-Karska
tel. 22 831 17 41
kom. 883 333 623
e-mail: zkp@zkp.org.pl